Meet Airdrie Orthodontic Team
Our team provides patients with several treatment options. Cory Liss Orthodontics provides customer oriented services, solutions for straightening teeth, along with options for braces and orthodontic treatment. Dr. Liss has chosen a qualified team of professionals to help him provide his patients with orthodontic service & care
Each clinical member on the Cory Liss Orthodontics team is a RDA II and has completed specialized training in orthodontics.
Our administrative staff are always eager to answer all your questions, from appointments and insurance claims, to how to find us and where to park.
Lab staff at Cory Liss Orthodontics are a vital part of the team. Having an in house lab team really gives Dr. Liss the control he needs. Lot of appliances are made here, and we have just the lab techs to do the job.
The entire team looks forward to seeing you soon!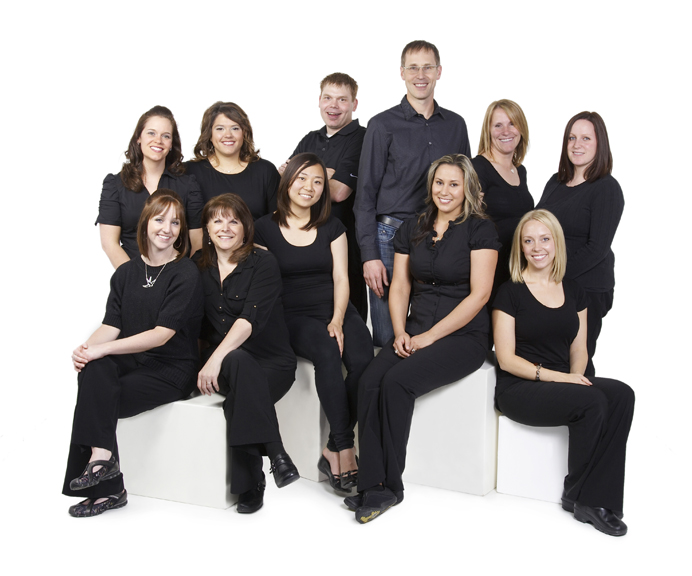 ---
Hi, my name is Alison; I have worked at Cory Liss Orthodontics since it first opened. As a Registered Dental Assistant, you will see me running around the back, making things happen. I love building lasting relationships with our patients and helping to create the perfect smile. Outside of the office I love Hockey, I play right wing on a competitive women's team. In the off season, I enjoy playing soccer. When I'm not being sporty… you will see me spending time with my family and friends.
Hi, I'm Wendy and I'm proud to be Office Manager at Cory Liss orthodontics. It's a pleasure to work with a team who are dedicated to providing patients with an orthodontic experience at each visit. Time away from work is spent with my husband (Dan) and family, (Bobby, Shannon & Meghan and grandson Drezden). I also love to spend time with my parents on their acreage and yes, I will admit, I love to sing a little Karaoke!
Hi my name is Barb; I am one of Cory Liss Orthodontics Assistants. I have been working in the dental field since 2000, I graduated from the Dental Assisting program at Okanagan University College in Kelowna B.C. I have been working here since 2006. When I'm not working I enjoy snowboarding, boating and spending time with my husband Joe and two boy's Anthony and Marco. I take pride in helping to make you feel at home when you visit our office.
Hi, my name is Grace. I moved to Canada 4 years ago from Thailand. I have worked at Cory Liss Orthodontics since May of 2010 as the team's lab and sterilization technician. I enjoy working with this great team because they have a lot of combined experience in making beautiful smiles and I look forward to learning more from Dr. Liss and his team.
Hi, I'm Dave and I'm fortunate enough to work with the great team at Cory Liss Orthodontics as a lab tech. I have been a Lab tech since 1996 and take great pride in providing our patients with appliances. I am originally from Nova Scotia and now enjoying Alberta, hiking, camping and exploring the sites. As much as I'm enjoying my time here I do look forward to visits from family and friends especially my brothers.
 
Hello, my name is Megan and I am a clinical assistant at Cory Liss Orthodontics. I was born and raised in Cape Breton, where I attended Cape Breton University graduating with my Bachelor of Science. I then attended Cape Breton Business College, completing their Dental Assisting program in 2009. I moved to Calgary in May 2011 with my fiancé', my dog and my cat. I look forward to getting to know our patients here at Cory Liss Orthodontics.
Hey there! My name is Hannah. I got into orthodontics in 2008, here at Cory Liss Orthodontics. I quickly realized what an amazing and fun job it is to transform people's smiles. I live to travel and actually spent 2011-2013 living and working in New Zealand. On the return home hubby and I visited Australia, Thailand, China and Europe. My hubby and I also own a hardwood flooring company call Bull Tough Flooring, which is very fitting since he is a bull rider! If I'm not here at CLO you can find me down the street at Community Health Foods pursuing one of my other passions, nutrition!
 
Hi! I'm Wendy! I graduated as a Dental Assistant in 2011. I have worked in both general and pediatric dentistry and now thrilled to be in Orthodontics. I knew I wanted to be a part of the Cory Liss Team the minute I walked through the door. So I am very happy to call CLO home.
I was born and raised in Red Deer and moved to Calgary in 2011, I can't imagine a better place to live. I spend most of my free time with my boyfriend and our puppy. I look forward to meeting all the smiles in the back clinic!
 
Hi, my name is Christie and I am one of the assistants at Cory Liss Orthodontics. I am a born and raised Calgarian. In 2012 I graduated from SAIT and have been working in the dental field ever since. One of my favorite things about working here is getting to know each patient as they embark on their journey through the orthodontic process. In my free time I enjoy travelling, adventuring the mountains, and spending quality time with my family, and friends.